Doctors & Staff
Meet the experienced and friendly doctors and staff who make Ferman Optometry the leading provider of vision care products and services in Plymouth.
---
Dr. Andrew Ealovega (Dr. Andy)
Dr. Andy grew up in the Plymouth-Canton community, graduating from Salem High School. He earned a BS in Biology at Eastern Michigan University in 1992, and his Doctor of Optometry at the Michigan College of Optometry at Ferris State University in 1997. He and Dr. Greg worked side by side until Dr. Greg retired in 2016.
Dr. Andy is committed to helping patients of all ages maintain healthy eyes and have the best vision possible. When vision correction is needed, he takes the time to explain your prescription, discuss all the lens materials and options we offer, and he is an expert at fitting contact lenses. He has been a member of the Michigan Optometric Association since graduating in 1997 and an active member of the Kiwanis Club of Colonial Plymouth since 2016.
He resides in Canton with his wife and two children. He loves the outdoors – whether it's working in the yard, hiking around the local Metro Parks, camping in Michigan state parks, or exploring downtown Ann Arbor with his daughter. He's a life-long fan of everything Disney; he even spent a semester working at Disney World's Epcot Center during college.
---
Dr. Greg Ferman (retired)
Dear friends,
After 39 years I have decided to hang up the lab coat and retire from the Optometry practice. My last official day was September 30, 2016. Thank you all so much for your loyal friendship over the years. I will miss your warmth, your laughter, your stories, and your companionship.
My father Bill started his career in the Optometry business in 1950s, my brother Ted began working as an optician's apprentice in 1969 and I joined them in 1977. Although I am leaving, the Ferman brand lives on. Ted is still with the practice for a few more years, as is Dr. Andrew Ealovega, my partner and friend since 1997. Dr. Andy has taken care of my eyes for 20 years, and will continue the Ferman tradition of friendly, professional service and provide you with the highest quality of eye care.
My wife Christine and I are moving to Branson, MO. The Show Me State has long been a favorite vacation destination of ours, and during a trip last spring, we began looking at houses. Our goal then was just to get an idea of what's available, but we saw a home that was just perfect, made an offer and… voila! The retirement process began. We have spent the last few weeks pulling up roots in Plymouth making trips to the new house. While it is not easy to leave Michigan, Christine and I are excited about our new life in Missouri. We will miss you all very much.
---
Ted Ferman – Optician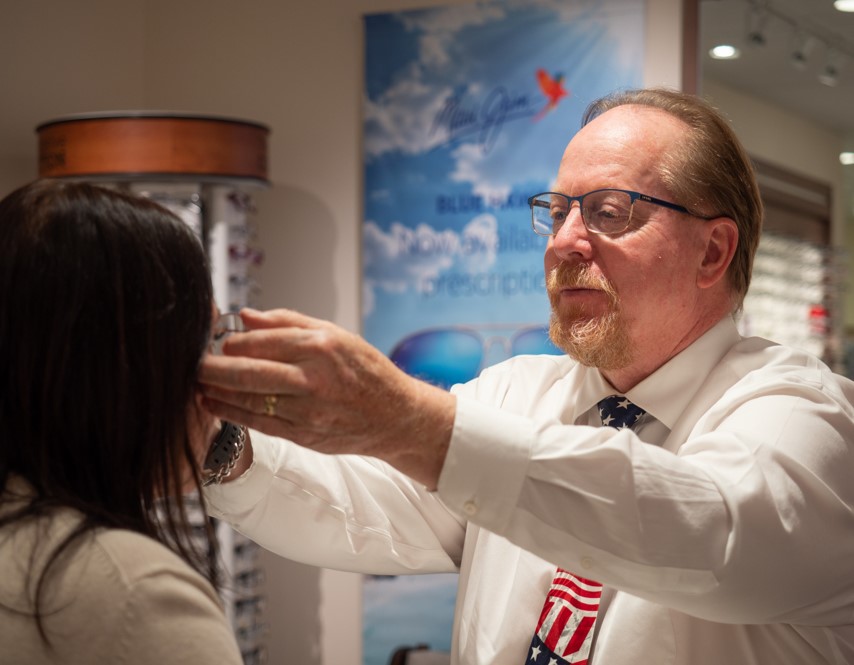 Ted is among the 3rd generation of the Ferman family to work in the optical business. Following the retirement of his brother Dr. Greg and sister Sue, Ted carries on the Ferman name, still working tirelessly after five decades in the family practice. A skilled optician by the time he graduated from high school, Ted is so much more than a typical optical sales rep. Certified with the American Board of Opticianry; a Fellow in the National Academy of Opticianry; five decades of experience; and always up to date with the latest frame designs, lens options and technological advances in vision correction… Ted is one of the most experienced and skilled opticians in Michigan. He is always ready with a friendly smile, cheerful story and expert advice.
Ted lives in Canton with his wife and step-children. He was very active as a Plymouth-Canton Music Booster for 20 years. His hobbies include racing sailboats, trying out new & tasty recipes in the kitchen, and creating stained-glass art. In 2011, Ted began studying Tai Chi, becoming an instructor in 2015, and has been on the Board of Directors of the Michigan Tai Chi Association since 2017.
---
Maureen – Optician
Maureen Marlow joined Ferman Optometry in February 2020, with more than 20 years of optician experience. She is knowledgeable, easy-going, and loves working with patients. She will pair her expertise to Dr. Andy's recommendations with eyewear that will best suit your optical needs to your personal style. Her love of gardening is second only to her love for her family… her husband Scott; her son Scott; and her other son Ryan and his wife Sara, and grandson Logan. If her infectious laughter doesn't cheer you up, her tales of Logan surely will!
---
Carol – Receptionist
Carol joined Ferman Optometry in March 2019, with a background in dental office management and customer service. Her strong work ethic and technical experience helped her quickly make the switch from dental to the optical business. She runs the front desk with a confident and organized zeal; brightening everyone's day with her infectious friendliness. She has lived in Plymouth since 1982. Together with her husband Randy they have two wonderful daughters, three grandsons, and Maurice – an extremely distinguished Coton de Tulear. When not at work, she loves to garden, host foodie parties for family and friends, and golf when on vacation.
---
Dawn – Receptionist
Dawn joined Ferman Optometry in March 2020 with a background in Home Health Care Management and Retail Management. She brings her quick wit and love of the universe to us! Dawn grew up in in the Plymouth-Canton area, and when not at work, you can find her digging in the dirt with her dogs, frolicking with friends and family, and planning her next adventure in life
---
Julie – Billing Specialist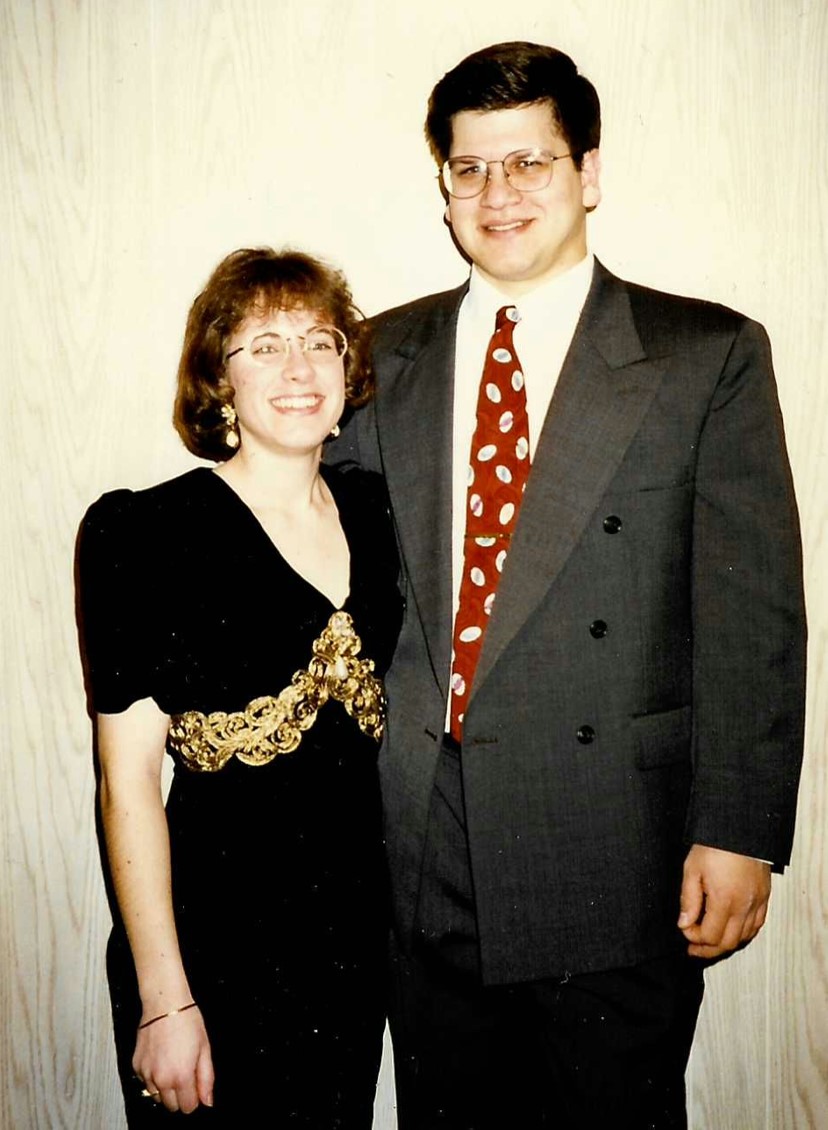 Julie, wife of Dr. Andy, is a former elementary and middle school teacher. While home raising their two children, she continued to be active in the schools as a parent volunteer. She joined Ferman Optometry in January 2019 to assist at the front desk and with insurance billing. In her free time, she enjoys reading, hiking and biking with her family, and teaching firstgrade catechism.
---
Thomas Johnson – Business Manager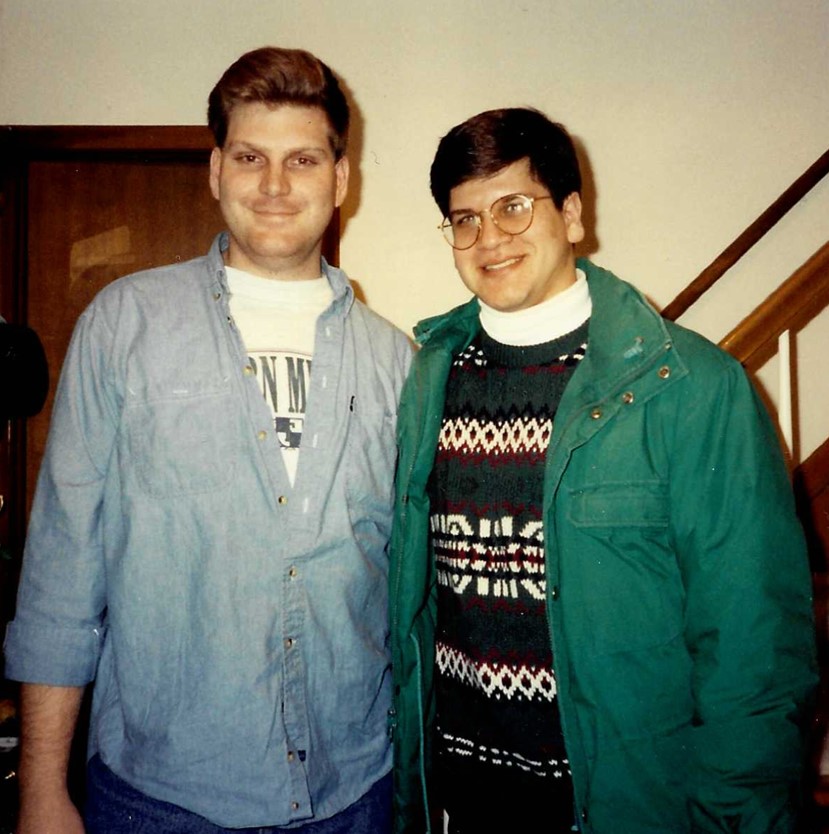 Tom grew up in Plymouth, graduated from Salem HS, and Eastern Michigan University – both alongside Dr. Andy – and earned an MS degree in biochemistry from Arizona State University. After a great career as an analytical chemist in Colorado and later California, he moved back to Michigan, and joined the team in 2016. Here at Ferman Optometry, he manages the day-today business of the practice, helps out with billing ordering, assists the opticians as a lab technician, and has become the resident expert on in-office lens finishing. Tom is quite the trivia buff. More than just a trivia player, Tom is an accomplished question writer and quizmaster, boasting a library with more than 100,000 trivia questions!